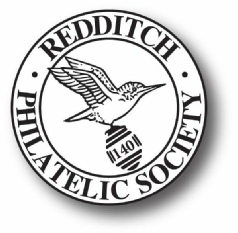 WELCOME TO REDDITCH
PHILATELIC SOCIETY!

We pride ourselves on emphasising the ENJOYMENT of philately, which is, after all, a hobby! Whatever aspect of philately is of most interest to you, you can be sure that somewhere within our ranks there is someone with a similar interest who is just waiting to share information and perhaps material. Certainly, we endeavour to further our knowledge and improve our collections. By doing so, we all gain, which in turn leads to our ever greater enjoyment and understanding.


History of the Society

Redditch Philatelic Society was formed in 1971 when a group of local stamp collectors decided to hold regular meetings. At first we met monthly in the Smallwood Almshouses. As our membership steadily increased, we decided to meet twice monthly. This gave members a choice of alternative nights in the month, the first Monday and the third Thursday. In the autumn of 1993 we changed our meeting venue to St George's Community Hall.
After the closure of St George's Church we moved again in the autumn of 2011 to our present home: The Bridge Church Community Hall, Evesham Road, Headless Cross, Redditch B97 4JX (next to St Luke's Church).

Philosophy

The Society is based very strongly on "philately is fun". We all have enough stress within our lives and we use our hobby as a form of relaxation. Meetings are structured and relaxed but never casual. Prospective members are encouraged to attend a number of our meetings to enable them to decide if they wish to join us, and when they do they become part of what is a friendly group of people with a common interest in one or more of the many aspects of philately.

Membership
As with any similar organisation, there is of course an annual subscription. This currently stands at £15 a year. This represents excellent value for the benefits members receive. Our membership stands at around 20, with ladies represented too. A considerably high proportion of our membership comes along regularly to meetings.


Our Members
As you would expect we have a quite a few collectors of British material, whose interests and detailed knowledge cover the whole spectrum of stamps from the earliest times right up to the present day. Members are also interested in postal history, postcards, aerophilately, thematics and literally anything to do with stamps and the post.
SITE LAST UPDATED:
16th August 2023